The effects of stressors (psychological-physical) on progesterone level relative to demyelination in multiple sclerosis disease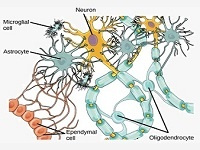 Considering the increasingly stressful lifestyles and the frequency of day-to-day emotional disturbance in modern societies, numerous studies have focused on the effects of stress as an important risk factor in progression or even in the onset of many disorders such as Multiple Sclerosis.
In this study, the effect of psychological and physical stress on the amount of progesterone (as an effective hormone and neuroprotector in the brain) in relation to myelin degradation was investigated. After 5 days of exposure to psychological and physical stress as a repetitive distress modality, the rats were treated with cuprizone for 6 weeks in order to induce demyelination. The demyelination degree was compared in animal groups using Luxol fast blue staining, immunohistochemistry staining for myelin basic protein (MBP) and transmission electron microscopy in the lateral corpus callosum. Also, the brain comparative metabolite alterations were studied by 1H-MRS. The relative expression of MBP and 3β- HSD (progesterone producing enzyme) in the brain was measured at the mRNA and protein levels. According to the results, the animals in both stress exposed groups, particularly the psychological stress group, showed a lower serum progesterone concentration and a stronger loss of MBP as well as a higher expression of brain 3β- HSD compared with the cuprizone fed group. Findings show that brain susceptibility and changes underlying to psychological stress in cuprizone model of Multiple Sclerosis are of greatest importance with more potency of apoptosis of oligodendrocytes, severe myelin degradation, and by reducing progesterone as a neurosteroid thus, the brain increases the 3β- HSD expression in order to synthesize progesterone as a compensatory response.